Fresh juicy content keeps customers interacting with your brand and coming back to your website, deepening relationships and resulting in a lifetime of sales. Citrine Media makes it easy, with professional services that make your brand part of the online conversation.
New research shows companies with the highest levels of social media activity increased revenues by 18 percent this year, while the least active saw sales drop 6 percent.
A recent survey found that 69.4 percent of U.S. moms visited a social media site in March 2009. In another survey, 58 percent of online moms named blogs as their favorite type of online content and 35 percent said they'd read a blog in the past week.
New media is the most cost effective way to reach customers because it is much more focused than print, radio or television. It allows you to make the most of your marketing budget.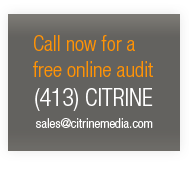 Call now for a free online audit
telephone: (413) CITRINE